Although skincare can include a regular facial, it really starts at home. So even though you won't be able to make your appointments for a while, we're still here to help you keep your skin glowing and happy for when we get to see you again! Skincare is all about designing a regime that suits you, your personality and your lifestyle. Decide when you normally have more time: in the morning, or just before bed? What are you likely to do every day or maybe throw in on a self-care Sunday? Here's a few important steps to get your started.
Cleanse
It's important to cleanse both morning and night to remove impurities. It's equally as important to double cleanse – especially if you've had a full face of make up on for that early morning Zoom meeting! Cleansing once can just move the make up and impurities around your face, preventing your cleanser from really getting in there and doing some good work! Use an oil-based pre-cleanse or balm first to kick-start your cleanse!
Exfoliate
Exfoliating can be done once a day with a very light, gentle exfoliant or once a week if you prefer a deep scrub! Choose a product that suits your skin type. If you're extra sensitive you don't want something harsh and although we'd still recommend exfoliating, limit the amount of touch-time with your skin.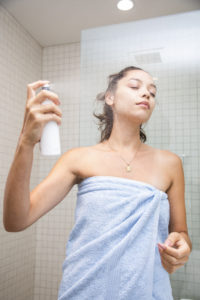 Tone
Using a toner twice a day helps to prevent pores from clogging and can give an extra boost of hydration if you use the right one! Try to avoid astringent (stripping) toners that include alcohol as they can remove all the natural oils on your skin that maintain balance. You may be trying to reduce oil but you could actually be forcing your skin to produce more!
Mask
This one is for the self-care Sunday! Or any day for that matter! Bubble bath, glass of fizz, enriching face mask. Sounds ideal doesn't it? Perfect for a little at-home pamper when you can't get to the salon! For anti-ageing try something deeply moisturising and hydrating and leave on for fifteen minutes then wash away with warm water. Your skin will feel AMAZING! Worried about those dry and cracked hands? Use a little on them too! Hyaluronic acid is a perfect ingredient for hydration.
Moisturise
Last but by no means least is moisturising. Now the weather is changing (hopefully for the better) you may want to try something a little lighter. Wanting to keep your routine quick and easy? Opt for a moisturiser with built-in SPF. Especially if you're pottering about in the garden or making the most of your one exercise a day. SPF is necessary – at least 30 or 50 for the face – to prevent signs of early ageing.
If you have any concerns about what to do at home to look after your skin, contact us via e-mail or Facebook Messenger and we'll be happy to offer advice!
Take care and stay safe.
Love,
The bijou team x