Anti-ageing is one of skincare's biggest goals. From our 30s, we start to look for ways to keep our skin looking young, healthy and wrinkle-free. However, external triggers such as environmental damage, constant UV exposure and unhealthy lifestyle habits can begin to compromise your skin's natural barrier from your 20s. Our skin's ability to fight off free radicals and skin damage diminishes, as well as cell renewal and turnover. Meaning less radiance, more dullness.
The key thing to remember, is it's a lot easier to maintain younger looking skin, than it is to reverse signs of ageing. Which is why taking care of mature skin is so important. If you'd prefer to avoid going under the knife or needle and instead 'grow old gracefully' take a look at these top tips.
Stay out of the sun
The biggest no-no if you want to avoid deep-set wrinkles, skin pigmentation and that 'leathery' look is sun exposure. If you're a sunworshipper, whack on the factor 50 – especially on your face. Sunbathing and sunbeds increase the appearance of ageing more than anything else. SPF needs to be the foundation of your skincare routine, whether it's cloudy or you feel like you're in Ibiza. Keep a top-up tube in your handbag too.
Keep on cleansing
A consistent skincare regime will help keep signs of ageing at bay. Cleanse twice daily to avoid and remove a build-up of dirt and debris that settles on your skin and regularly exfoliate (at least once a week). From your pillow to the commute to work, your face is exposed to the elements. Pollutants and environmental factors can accelerate signs of ageing. Find out more on how to protect your skin from pollution here.
Not sure where to start on your skincare routine? Book a FREE consultation with a bijou therapist to discover the right products for your skin type.

Hydrate before it's too late
As we reach our 40s, dehydration can become an issue for our skin. Barrier lipids aren't as prominent, and skin begins to thin. Retain moisture by staying hydrated inside and out. Drinking plenty of water and applying moisturiser regularly will help moisture retention. Additionally, investing in a good anti-ageing serum will be an added benefit to your regular routine.
It's all in the lifestyle
Our skin is a clear indicator to the lifestyles we lead. The following four issues are key contributors to accelerated ageing.
Unhealthy diet
Not enough sleep
Too much stress
Smoking and drinking alcohol.
Sometimes you don't have to shell out loads of money to look (and feel) young, it may just mean taking steps to change poor habits into good ones. It could be a difficult and long journey, but its one your skin and you will thank yourself for in the future.
Try a non-surgical approach to treatments
A non-invasive treatment such as CACI's non-surgical facial toning can be an added boost to the above advice.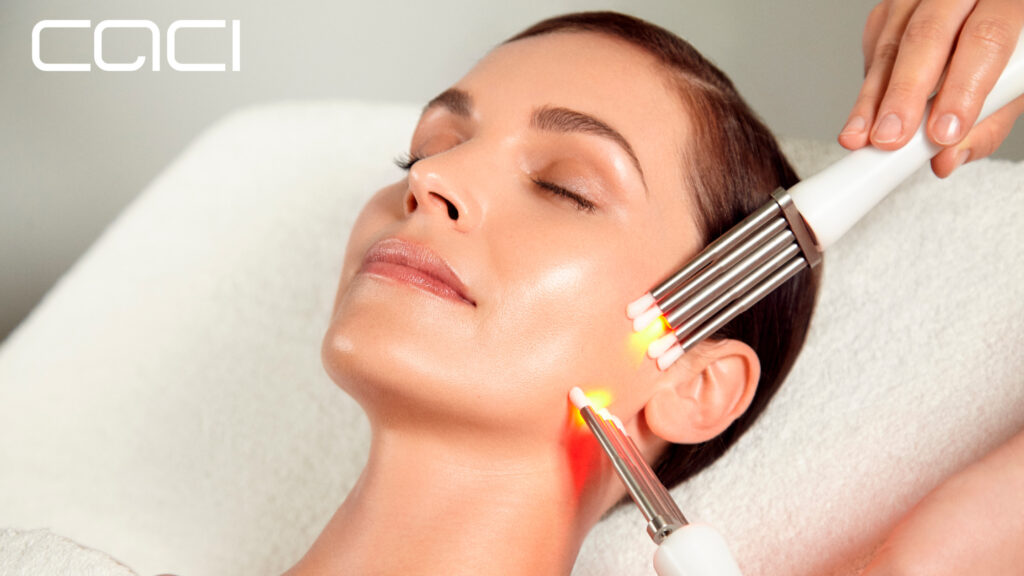 Complimenting regular skincare and positive lifestyle choices, CACI's microcurrent and LED technology improves muscle tone, tissue regeneration and collagen production, which all begin to naturally decline as we get older. Light therapy combined with natural frequency vibrations can also repair damaged cells and stave off signs of ageing such as fine line and wrinkles.
A worthy investment, a course of treatments will leave your skin feeling firm, toned and glowing.
Speak to a therapist about CACI treatments today on 0118 973 1158 or email enquiries@bijou-beauty.co.uk.