Incorporating a great skincare routine into your daily life is one of the best ways to look after your skin and minimise the ageing process, but did you know that having a facial should also be part of your routine? There are so many benefits to a facial; from relaxation to reducing fine lines and wrinkles, this treatment is a one-way ticket to a long-lasting and healthy glow.
#1 Instant moisture
A facial instantly moisturises your skin, protecting your skin's natural barrier from external triggers and maintaining a bright and firm complexion.
#2 Anti-ageing
Carving out an hour every month to reward yourself with a facial will reverse visible signs of ageing by smoothing out fine lines and wrinkles and defending your skin against pollutants and free radicals you may come face to face with on your commute every day.
Want to go a step further? Try Dermalogica's Pro Power Peel for an extra boost.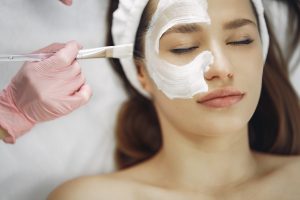 #3 Improve skin tone and texture
By sloughing off dead skin cells through a resurfacing treatment, you're removing all the dead skin cells that sit on the surface of your skin. These cause that dull complexion and a deep exfoliation can help brighten and rejuvenate your skin immediately!
#4 Alleviate redness and sensitivity
Do you struggle with sensitive or sensitised skin? At-home products cause irritation or just don't do the trick? Scheduling a facial with a trained skincare professional will allow you the time and consideration to gain valuable skincare knowledge. Your therapist will use products that bring calm to your skin to reduce redness and soothe sensitivity.
#5 Reduce fine lines and wrinkles
A deep treatment can significantly reduce the appearance of fine lines and wrinkles by using the right products for your skin type that include ingredients such as Vitamin C or Retinol. Salon products can contain stronger ingredients and advanced technology that are a cut above any high street product.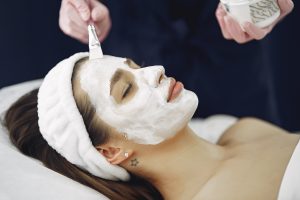 #6 Reduce blemishes and breakouts
If you suffer from acne prone skin, then a facial can give your skin the boost it needs to fight back. Not only will targeted products help treat these breakouts, but your therapist can incorporate therapeutic technologies such as LED light therapy (which carriers anti-bacterial and anti-inflammatory properties) to reduce redness and discomfort.
Is your skin behaving badly? Click here to find out more about how to help breakout-prone skin.
#7 Boost circulation
Who says massage is just a luxury? Facial massage and touch therapy boost circulation through lymphatic drainage. Your skin is instantly rejuvenated as blood begins to circulate more easily, giving you that healthy glow and removing toxins at the same time. Win-win!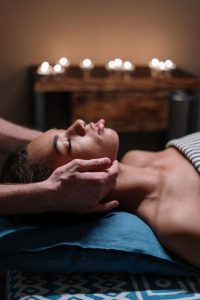 #8 Extraction
Extraction doesn't always have to be part of a facial, but if you suffer from blackheads or milias then it definitely helps. Milia are small, white, ball-like cysts that are totally harmless, but can accumulate under your eyes. They are a collection of dead skin cells and much like blackheads, they can be extracted professionally by your therapist. Regular exfoliation at home will help to reduce these from happening, but sometimes it needs a professional hand to take care of them!
#9 Skincare education
Spending time with your skincare therapist can open up a conversation about your skin type and the best products for you. A lot of us can go years thinking we're one skin type, using astringent products because we had an oily t-zone, when in fact we should have been hydrating because we had a dry skin type and our over zealous use of the exfoliator wasn't doing us any favours! Sound familiar? Speak to your therapist and book in for a free skincare consultation to make sure you're on the right track with your skincare routine.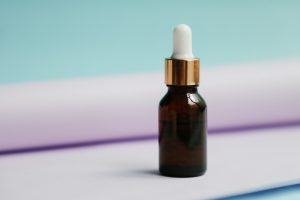 #10 Relaxation
Last but by no means least, facials help us to relax. Sometimes, unwinding after a hectic month can be just the remedy we needed. Stress also has a negative impact on our skin. It reduces the recovery rate of our skin by 40% and releases enzymes into your skin that create inflammation. So, you're not just booking in for a pamper, you're being proactive and protecting your skin from all that stress!
What NOT to do after a facial
The aftercare is just as important as the work done in the treatment room. Follow these simple rules to make the most of your facial.
No steam room or sauna trips
No massages either (doesn't mean you can't have one before though!)
Avoid touching your face as much as possible
No at-home peels or products that include Retin A/Renova for 72 hours
Stay out of the sun
Don't pick
Don't apply make up
Lifecycle of a Facial
The moment you step out of that treatment room you'll be able to admire an immediate healthy glow to your complexion. For the next 48-72 hours, your skin will be hydrated and your circulation boosted. Cells start to regenerate after 28-48 days – this is where the long-term benefits of a facial start to kick in. To maintain these benefits, you should schedule your next facial every 4-6 weeks to remove dead skin cells and rid your skin of impurities.
Time for a facial? Call 01189731158 to book your appointment now.