#1 CACI Age Delay Duo Kit
This great little kit brings the benefits of two products in one perfect package. Teaming together The CACI Eye Revive serum and CACI Amino-lift Peptide Complex. The eye serum reduces puffiness and dark circles, as well as smoothing the skin texture around the eye area – bye-bye crow's feet! Infused with hyaluronic acid and seaweed extract, this hydrating product is soothing for tired eyes. What's an amino-lift peptide complex you ask? Well, it's an award-winning anti-ageing serum that reduces fine lines and wrinkles whilst firming and toning the skin. An excellent addition to your skincare routine and a little boost between your CACI treatments.
Want to know more about CACI? Click here.
#2 Dermalogica PreCleanse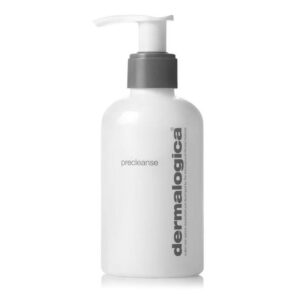 It smells good, it feels good and it works wonders. We wouldn't start a facial without it. Whether you prefer the balm or the oil, this first step in your skincare routine is not to be missed! A deep cleansing product that melts away makeup, excess oil, sun cream and anything else that's been sitting on your skin all day. We're told to shampoo our hair twice; you should do the same for your skin! PreCleanse leads the way to making the most of your chosen cleanser.
#3 Jessica Phenomen Oil

Oh boy do we love this stuff. Before, during or after manicures and pedicures – gel or standard, this is our go-to product. It nourishes the nails, cuticles and any dry skin area (even your elbows)! Most of our clients leave with a bottle and come back for more. Apply before bed every night for best results.
#4 Spongelle Body Buffer

A bijou staple. It's unusual to the see the salon without one of these beauties adorning our shelves or counter. These body wash infused buffers come in a variety of scents, sizes and shapes. There's an option for everybody. They're kind and gentle to the skin and are cruelty-free and vegan-friendly. Perfect for a position in the shower, or as a gift for someone! Most of our clients stock up before their holidays as they're travel-sized and you can minimise on liquids!
#5 Nouveau Lashes Lash & Brow Conditioning Serum

One of the most recent additions to the salon. This lash & brow conditioning serum is an excellent post-treatment product after indulging in an LVL Lash Lift or HD Brows. Containing powerful antioxidants, this is an intense conditioner for natural or treated lashes and extensions. This product has grown in popularity as our clients have seen great results after using it every day for 12 weeks.
What's your favourite product we have at bijou? Want to make sure we have your favourites in stock? Drop us an e-mail at enquiries@bijou-beauty.co.uk or give us a call on 0118 973 1158 and we'll make sure we've got your go-to products available!