At bijou we LOVE Dermalogica products. Not only do we use them in our treatments, but we also use them at home ourselves. We all have different skin types and concerns and therefore all love different products. Here's an insight into our lovely Debbie's top three products she swears by.
PreCleanse Balm
"I love the scent of the essential oils; the notes of lavender and citrus just work really well together. The texture is lovely as it's oily and melts onto the skin as you apply it. It also comes with an applicator mitt which is great for that added exfoliation."
PreCleanse Balm is a balm-to-oil, ideal for normal to dry skin, which deconstructs excess sebum (oil), removes waterproof make up, sunscreen and other impurities without compromising our natural barrier. Use before your recommended cleanser.
Barrier Repair
"It's easy to apply and calms my skin right down as I suffer from rosacea. It creates a film beneath my makeup for smooth application too."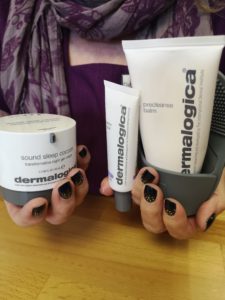 A unique anhydrous (waterless) moisturiser that protects our natural lipid barrier from environmental triggers. Great for sensitive skin as it reduces inflammation and discomfort.
Sound Sleep Cocoon
"My favourite part is the lovely, relaxing scent as I'm heading off to bed. It has a light texture which I like as it doesn't feel too heavy on my face as I sleep. My head hits the pillow and I'm out like a light!"
A night-time gel-cream that aids restorative sleep. Encapsulated, motion-activated essential oils burst as you move during the night to send you straight back to sleep, so you wake up well-rested and fresh-faced.
Interested in any of these products? E-mail us at enquiries@bijou-beauty.co.uk for a chat about your skin concerns and which products are best for you.